Sensibo Selected As A Special Mention In TIME's Best Inventions of 2023
Sensibo Team
2 minute read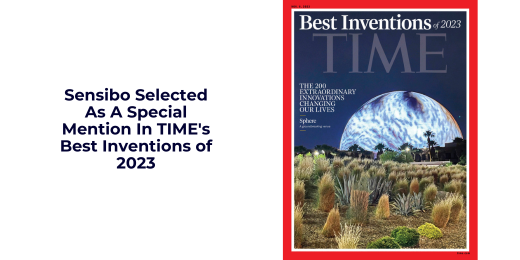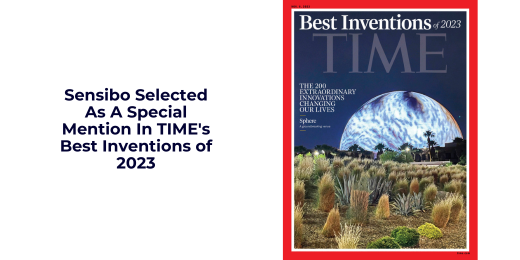 Tel Aviv, October 24, 2023 – TIME honored Sensibo by listing them among the Top Best Inventions for 2023. TIME's annual list recognizes products, software and services that are solving compelling problems in creative ways. Sensibo Air Pro, the world's first smart AC and Heat Pump controller with indoor air quality monitoring, was selected as a special mention in TIME's Best Inventions list for 2023.
The TIME recognition comes amidst extreme weather and climate change in various parts of the world. According to the International Energy Agency (IEA), 25% of the world's energy is consumed by heating / cooling devices*, while Sensibo has the ability to reduce energy use by ~20%, thus reducing the impact of heating / cooling devices on the climate.
"TIME has recognized Sensibo's mission to globally impact climate technology, addressing the most pressing challenge of our era," says Ran Roth, Sensibo's CEO and Co-Founder. "Sensibo aims to be the brains of every indoor climate system, using data to provide the best comfort, energy efficiency and air quality to every home and office. Sensibo Air Pro is the world's first smart AC and Heat Pump controller with indoor air quality monitoring and we are proud that TIME has awarded it a special mention in the TIME Best Inventions 2023 list".
Sensibo Air Pro, turns any "dumb" heating or cooling device to a smart device which can be controlled from anywhere, activates Climate react which sets thresholds to activate/deactivate AC or heat pump based on temperature/humidity and Geo-fencing which automatically activate/deactivate the AC or heat pump when the user arrives/leaves, among many other features.
Sensibo is the developer of climate technology-focused products found in over 200,000 homes around the world. Since 2014, Sensibo has produced smart heating and cooling devices & indoor air quality monitoring products, allowing users to control their heating and cooling devices with AI, data and sensors, while taking advantage of air quality data to optimize their use and reduce energy consumption. The Sensibo products utilize cloud computing that processes more than 1.2M HVAC actions a day. Sensibo's cloud measures the energy usage of the heating and cooling devices by using the temperature and humidity measurements gathered from the room environment. Sensibo's algorithms have access to billions of daily climate measurements, the user's actions and weather conditions. The result is an energy saving average of 20%, both for the energy bill and the world's climate.
About Sensibo
Sensibo develops leading technological solutions for smart climate management, energy management, and air quality, in homes, offices, public buildings, and more. The company's products, installed in hundreds of thousands of homes and businesses worldwide, lead to both a decrease in energy use and an increase in monetary savings. Sensibo's products bring efficiency to air conditioners and heating devices, which are otherwise responsible for almost 25% of the world's energy use and factor significantly in climate change-related emissions. The company was founded in 2013 by Ran Roth and Omer Enbar, two tech mavens. Products include Sensibo Sky, Sensibo Air, Sensibo Air Pro, Sensibo Elements and most recently, Sensibo Blaze. All are installed easily, connect to remote-controlled ACs, and may be remote-controlled via mobile app, along with full integration with Google Assistant, Alexa, Siri, and Apple HomeKit.
For further information please contact
Mira Marcus | PR, Sensibo | Sensibo@miramarcus.com